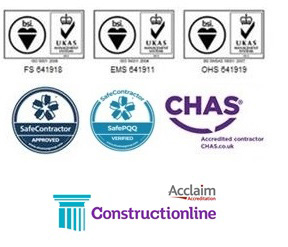 Landmarks strive for excellence in all aspects of its work to ensure complete client satisfaction. Landmarks are driven by a need to produce high standards for our Blue Chip clients and we are fully aware of the need to comply with Quality, Environmental and Health Safety issues.
Our approach is to:
Maintain a flexible attitude to client requirements
Ensure regular communication and environmental and health and safety awareness
Provide fully trained staff to offer a professional and diverse range of landscape and grounds management skills, using latest technology, equipment and techniques
To support this approach, Landmarks operates an Integrated Quality and Environmental Management System designed to meet the requirements of BS EN ISO 9001:2015, ISO 14001:2015 and OHSAS 18001. These are independently assessed international standards.
This demonstrates that Landmarks is committed to maintaining a consistent and high level of service to its Clients, achieved with environmentally responsible and sustainable operations. The Intergrated Management System (IMS) also provides an essential framework of audits and reviews, which enable our Management Team to ensure that continual improvement is a key process in all areas of its operations.
To confirm our commitment to Health and Safety matters, Landmarks are also due to be Safe Contractor and ContractorPlus approved. These ensure Landmarks are working within the Guidelines set out in the Management of Health and Safety at Work Regulations 1999.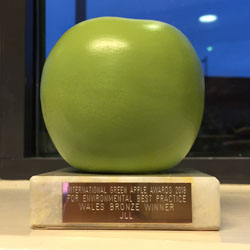 Landmarks Sustainability has a reputation for excellence and we strive for continuous improvement. Naturally, we are delighted when our hard work contributes to the successes and achievements of our clients. One of our flagship sites, with its extensive and colourful floral displays, has won the "East Midlands in Bloom" award for several years in a row. Furthermore, in 2018, we were informed that a re-landscaping project we were involved in at a site in North Wales – which aimed to create space and boost biodiversity – was awarded a "Green Apple Award" by The Green Organisation, a leading body for sustainability in the property sector.